It's 7:00 a.m. and my alarm goes off for the tenth time. I was supposed to wake up at 6:30 but I kept putting it on snooze. My real alarm hasn't woken me up yet! I actually surface when my helper, Megha knocks on my door and walks in carrying my morning coffee. I look at the time groggily and get irritated; she is late again! I am not a morning person at all; in fact I'm a nightmare when I'm jolted out of my pleasant dreams. For me, morning would be post 12 noon ideally! Unfortunately, I have to work to support myself and have to be in office by 9 a.m. Cursing Megha and everything else, I struggle to sit up dreading having to enter the kitchen and making my own coffee.
Just then I hear my familiar gentle knock on the door and Megha's small round face peeps in. I am ready to give her a piece of my mind but her cheerful 'Good morning Didi' and the smell of the heavenly coffee that only she can make, pacify me somewhat. I grumble and give her a surly good morning in return, taking the mug from her hands. She gets busy picking up and folding the clothes I've strewn around, separating the ones that need to be washed. I sip my coffee contentedly and observe her in silence. She normally hums some Bollywood number while she works but is totally silent today.
Megha always wears a sari and keeps her head covered. She had left her small village Kanakpur in Madhya Pradesh some years back and moved to Delhi with her husband and one year old son in search of greener pastures. Her husband, Ashok works as a driver for the CEO of some company while her son goes to a small private school close to my apartment.
Like most village folk, used to working outdoors, she was dark skinned. An average looking woman, she had beautiful black eyes and she highlighted them by putting lots of Kohl. I noticed that today she had not only covered her head but also the left side of her face with one edge of her sari. 'Megha, why have you covered your face?' I asked her feeling curious. She murmured something noncommittally and continued working. My curiosity got the better of me, I got out of bed and turned her around to face me. Gently, I removed the covering from her head, dreading what I was about to discover. Somehow, I knew what to expect and my worst fears came true when I saw that her left eye was purple and swollen up. The left side of her face was also badly bruised. Alarmed, I asked her what had happened though I knew all the tales about her alcoholic husband who would come home inebriated every night and physically abuse her.
Megha sat down on the floor and said nothing, she just stared at the door with a vacant expression.
This was totally unlike her, she normally starts crying and tells me how her husband had beaten her up or had forced himself on her but today she said nothing. I was getting really worried now and asked her to accompany me to the doctor. She refused and told me she would be fine. I looked at the time and realized I had a spew of meetings lined up. 'You go Didi, You are getting late for work', she said as if reading my mind. I looked at her guiltily one last time and rushed off to get ready.
That night when I got back home, I couldn't get Megha off my mind for some unfathomable reason. I completed my work, had the delicious meal prepared by her and subdued my misgivings. After a hectic day of meetings and conferences, it didn't take long for me to fall asleep.
The next morning, I wake up at 6:00 a.m. long before my alarm went off and went to make my own coffee. I was filled with a strange sense of foreboding. I got ready for work and then sat down to read the paper and wait for Megha. I spent a couple of fretful hours waiting for her but there was no sign of her. Calling her cell was in vain as it was switched off. Finally at 9, I got into my car and drove to her house. She lived in a small house in a colony very close to my apartment. I parked my car outside her colony and walked towards her house. When her house was within eyesight, I was filled with a sense of dread. I could see about fifty people assembled outside her main door. Rushing forward and pushing past people, I entered her house. There were people dressed in white, crying silently. In a trembling voice, I asked one of the relatives where Megha was and she pointed to a garlanded photo of Megha which had been put in the centre of the room. My world came to a standstill at that very instant.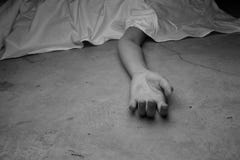 The only sensation I had at that moment was one of numbness. Dumbfounded, I stared at her photo and then at her family and relatives. Ashok was sitting behind the photo and crying copiously while her son sat in a corner with a lady relative, clutching a ragged teddy bear. With great effort, I managed to shake myself out of my shell shocked state. Walking up to her husband, I opened my mouth to question him but I could only get 'Ashok' out of my mouth before he got up, held my hand and started a fresh bout of wailing. "Didi ! Didi! She has gone! She has left us! She consumed poison last evening and ended her life. How could she do this? What will happen to us now? This is so unfair!" I looked at his hypocritical face and fake sorrow with disgust and walked out of the room. I walked out of the house and back to my car as fast as my legs would carry me. This could not be happening! Surely it was just a horrifying dream! However, reality wouldn't let go of its grip on me.
My hands on the steering wheel, had a mind of their own. Half an hour later, I found myself outside Balliwada, the nearest police station. The chaos and noise inside reminded me of the local vegetable market. In a dazed state, I asked for someone to help me lodge a complaint. I was taken to a rotund police officer who looked half asleep. He listened to me or rather pretended to while I told him about Megha's case and that I suspected foul play. "Madam, we will investigate and get back to you" , with these words he dismissed me.
Days followed and weeks but the police did not get back. All my follow up calls were greeted with the same reply " We are investigating and will get back to you shortly". Finally, six months later my call was greeted with a different reply , "The case is shut, the victim was mentally unbalanced". I put the phone down and stared out of the window, wondering whether I had actually expected a different reply, wondering whether I actually had faith in our law enforcers, the judiciary and the system, wondering whether I could have helped her in some way.
We are so caught up in our lives today that we have no time to spare, no time to look around us, no time to find out whether those around us are in pain. Does a Megha have to happen to shake us out of our complacency? Or does it leave us unaffected as we live out our superficial lives chasing superficial dreams?